If last weekend is any indication, Buzz Lightyear's got nothing on Seven Soul! 

We were honored to make our inaugural appearance at the Glendale Heights Fest this summer, playing just before the beloved headliner, Infinity.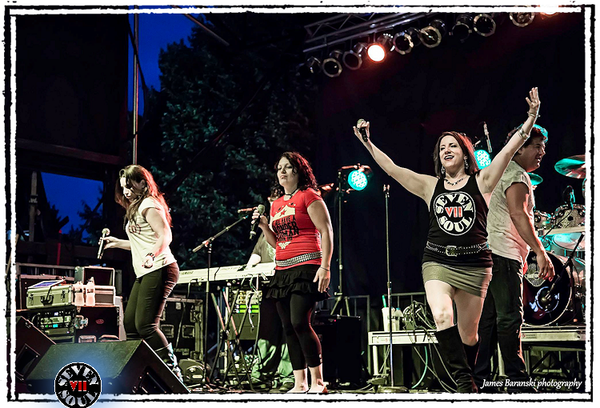 At first, the rain threatened to spoil the night for the good people of Glendale Heights (except for a few diehard troopers who were armed with giant golf umbrellas! Good thinking!). But, the clouds eventually parted, and the people started gathering for a great night of music.

Now, I'd love to say that they came to see us, but that wouldn't be entirely true. We did have bonafide SoulMates in the audience (we <3 you Mindy!), and we can't thank them enough for showing their support! Several festival goers wandered over from the carnival rides when the Seven Soul tunes reached them. But, the bulk of the audience were Infinity fans who arrived early to stake out a premo spot for the show. By the second half of our set, we had a great turnout!

No matter who they came to see, the crowd got a full taste of Seven Soul... and, they really dug us! Young and old, we saw dancing, grooving, head-bopping, and lip-syncing from every angle. Glendale Heights rocks!

Sadly, we ended our set a song early to keep the show running on time. Eh, it happens. But, Bob Biagi from Infinity made up for it. Whaaaaa??? Yep, he invited the Seven Soul ladies to sing a song with them. What a generous offer and honor to perform with these guys! (Thanks, Bob!)

So in the end, we had a BLAST performing and celebrating summer with the people of Glendale Heights. Thanks so much for having us, and let's do it again!