It isn't every day that you get to participate in a game changer. But, last weekend, Seven Soul was truly in the thick of it!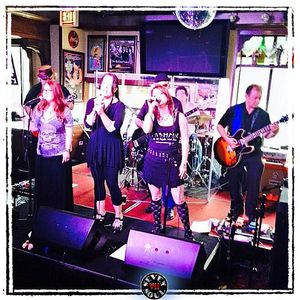 Last weekend, we played the inaugural
NXNW Highway Fest
in Edison Park. No, you're not crazy... the name is similar to the famous SXSW Music Fest. By design. Like the famous fest, the NXNW Highway Fest featured gobs of music from multiple genres, all within a short walk. Think "3-day musical pub crawl."
We were one of 45 band playing across those 4 venues in Edison Park. And, I gotta say, kuddos to the brain child of this one! What a spectacular display of musical talent, not to mention all of the sound engineers making the bands sparkle. Seriously, the best onstage audio I've ever experienced! 
One last time, we'd like to thank the NXNW Highway Fest for inviting us to play. Plus, thank you to
Moretti's
for opening your doors to all of the musical talent. Finally, thank you
Edison Park Chamber of Commerce
and
Blue Moon
for sponsoring this awesome event and keeping music alive.
Now, if you missed the inaugural event, be on the lookout for announcements next year. Folks, this event is a game changer in Chicagoland. And, it's only going to get better! Wouldn't it be fun to put Edison Park on the musical map with cities like Nashville, Austin, Los Angeles, and NYC? Hey, it could happen!
But, it most certainly won't happen without the support of our SoulMates and the other music lovers out there like you. Seven Soul appreciates all your love and enthusiasm. Thank you!