Wait… weren't we just here? ?
Although his stay with us was short, we are very sad to say that guitarist Ed Michener is moving on. Family always comes first, and we fully support Ed and his decision to spend more time guiding his mini-human to stellar adult status.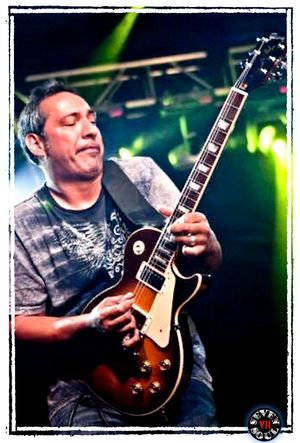 Filling Ed's shoes was not easy, but the stars and planets aligned just right for this one. We are pleased as all get-out to announce our newest member of the Seven Soul family… guitarist Rob "Warzone" Wawrzyniak! 
Rob is a longtime Chicagoland rocker. In the early years, the "older guys" around Chicago took a liking to young Rob and developed his deep love for the soulful guitar music of the 70's. They also filled his head with romanticized stories of the rock legends who conjured that wondrous music, driving him to his primary goal… become a rock star! 
Rob spent many years on the local music scene, most recently as guitarist for Missbehavin' and Buckshot Bully. But when he puts the guitar down, Rob loves spending time with his beloved wife and two pups (Harley and Davey), burning miles of back roads on his Harley! 
Rob brings a distinctly unique sound to Seven Soul, and you don't have to wait long to hear it. Come see Rob's debut as we open for the unparalleled Hairbanger's Ball! 
TAILGATERS • Bolingbrook 
Saturday, May 18 
Doors at 7pm 
Check our calendar for more details, and make your plans now!