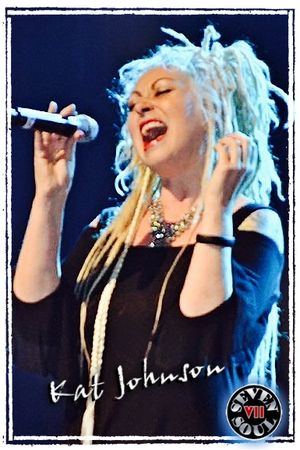 No, Seven Soul is not planning a show in Hawaii (we WISH!). "Aloha" is just one of those mixed up words that means both "hello" and "goodbye." And, that's exactly where we find ourselves right now...

First, Melissa Moulden has landed some new opportunities in the local music world, which is great news! However, there are only so many hours in the day, so the sad result is that she is retiring from Seven Soul. She was one of the beautiful voices on stage with us for the past year and a half, and she will certainly be missed. But, don't worry, you can still hear her gorgeous voice around Chicagoland! Melissa has several vocal projects around town, including the U.F.C. Band, the Andrew Blake Band, and more. We wish Melissa great success in her newest endeavors!

Filling the vacancy in our lineup, we are incredibly pleased to welcome the uncomparable Kat Johnson! Kat has a long, successful history in the local and international music scene, including Think Floyd and the Trans Infinity Orchestra. She not only brings her vocal talent to Seven Soul, but she is also skilled with an acoustic 6-string, bass, and violin (classically trained!).

Of course, any change in our lineup inevitably results in changes to our catalog. Seven Soul is working intently on updating our set lists to take full advantage of our collective musical talents and to maximize YOUR enjoyment!

Be sure to catch us at an upcoming show to see what's new and different. Plus, be sure to say hello to Kat... I promise, she doesn't bite (...hard)! Ha!